Overview of Moodle Activities & Resources
There are two different kinds of content in any Moodle course: resources and activities.
Activities: Students are actively doing something, e.g. participating in a discussion forum, completing a quiz,etc.
Resources: Students are accessing and engaging with course content, e.g. readings, videos, etc.
Instructors add activities and resources to Moodle courses to share content and engage students.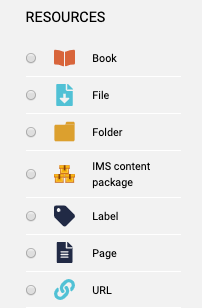 In this resource, we focus on the most popular activity (forums) and resources (books & pages). We cover these next.
To learn more about the other activities and resources in Moodle, browse the Knowledgebase or complete Moodle: Editing & Enhancing (as a workshop, online course, or self-study resource).
Last modified: Monday, 24 February 2020, 1:25 PM