Unit 2: Team-Based Learning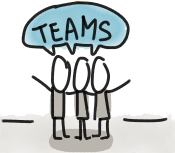 Royal Roads University's Learning and Teaching Model is highly team-based. Our cohort and team-based learning approach means that Royal Roads' students are requested to work intensely in teams throughout their programs. RRU is committed to providing team learning opportunities for students so they develop competencies that will transform their personal and professional lives. We often hear students say that working in teams is one of the most impactful elements of receiving an RRU education.
It is very likely that your course will contain at least one team activity or assignment. Listen to brief comments about working with teams from a few experienced RRU instructors. Some questions you will want to explore include:
How do I ensure I have an effective team assignment?
How are teams formed in this program? How many students will be on a team?
What is my responsibility, as an instructor, to guide and support team-building?
How will I know if a team is not communicating or working well?
Will I be evaluating how the team works together or will I just be marking the final product of the assignment?
Can I call on a Team Coach for help and advice?
Your Program Head can respond to the questions above.
Additional resources and support for students and faculty can be found and accessed via the TeamsWork website. CTET also offers a workshop called Successful Team Based Learning.

Last modified: Tuesday, 9 November 2021, 8:44 AM