Learn about WeChat
What is the tool?
WeChat is an easy to use messaging application that is particularly popular in China. It is sometimes described as their version of Facebook. You can access WeChat on your mobile phone.
How was it used at RRU? 
As members of RRU's associate faculty, we used WeChat in our International MAELM-Maple Leaf Schools program. In this program students love face-to-face interaction in blended courses but are slow to engage in online course activities. In our first class with the students in 2015 we noticed that WeChat seemed to be Chinese students' favourite social media tool. For EDLM-MLES 530 offered in 2017, we set up a course group in WeChat. In Unit One we asked them to do one activity in WeChat.
Here are two screenshots of the activity: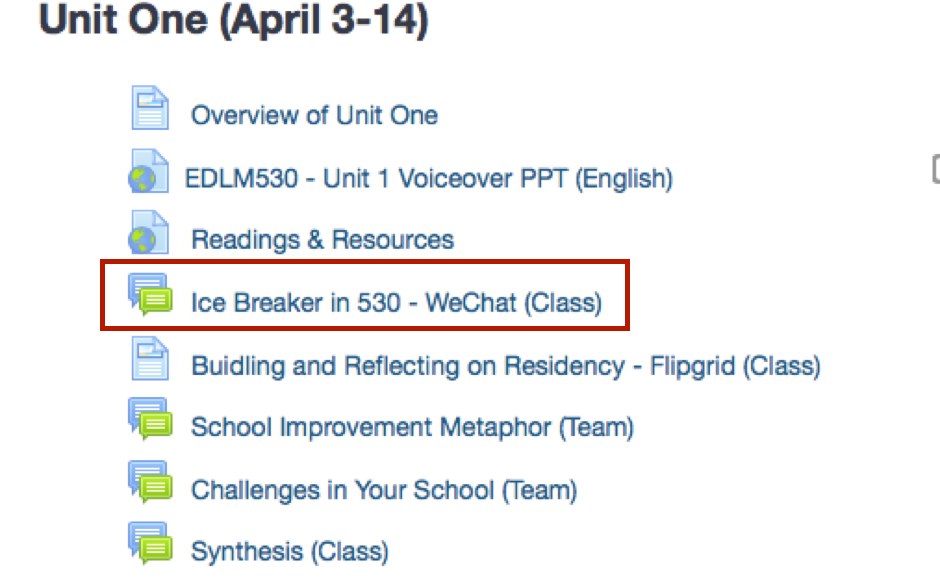 The Maple Leaf Program is a dual language program. For a dual language program WeChat has the easiest to use translation device. (Watch this 10-second video to see how translation to English works.) The translation function is easy to use. You just touch the item that was originally written in Chinese characters and swipe to the translation option. Sometimes it doesn't totally make sense though!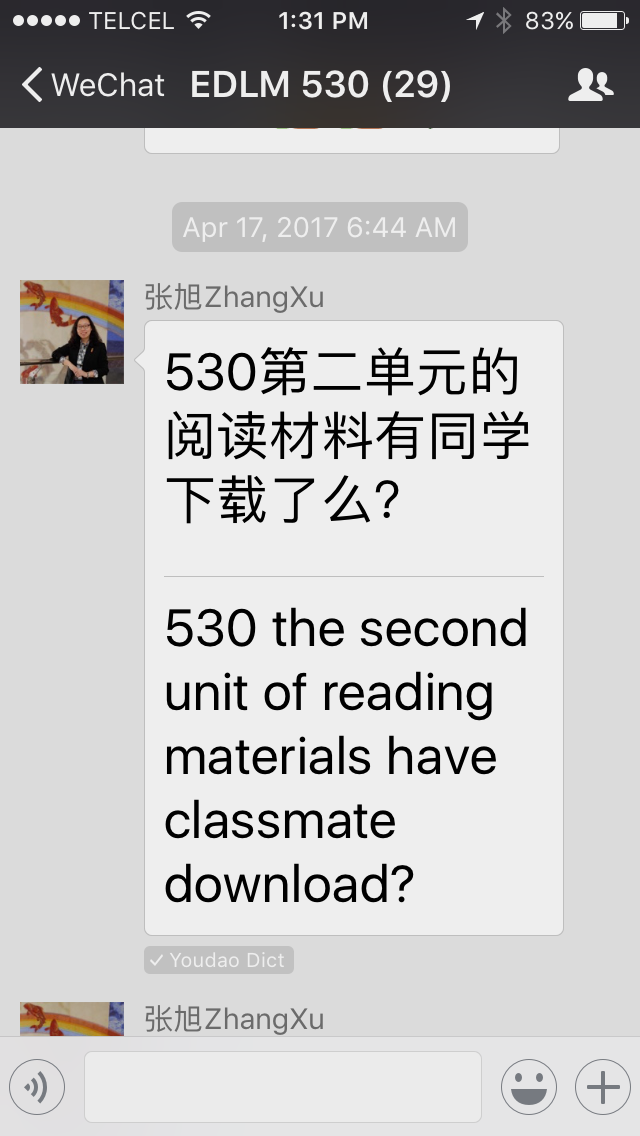 What was the result? 
Since the students are so familiar with it, they seemed to enjoy it. We have continued to use it to provide information to them in a less formal way. They also use it to ask questions. Since it is on their mobile device it is quicker than using their computer.
Try it out 
Now it's your turn! If you'd like to try using WeChat, follow these steps:
Download the WeChat application to your smart phone wherever you get applications (e.g. Google Play, Apple App Store)
After the app is downloaded, enter the app and choose Sign Up. You will be asked to enter your mobile phone number and the verification code that WeChat will send to your phone.
Next you'll need to enter your name. You can also give WeChat access to your phone Contacts to search to see if you know anyone currently using WeChat.
Important: You will want to change your WeChat ID right away to something unique and easy to remember AND so people can find you. (It looks like if WeChat assigns you an ID then you can't be found by others.) See these instructions for how to change your ID (note: you can only do this once).
More resources
---
Last modified: Monday, 29 May 2017, 10:42 AM